Choose a competent Sarasota Mover today to move your belongings damage free!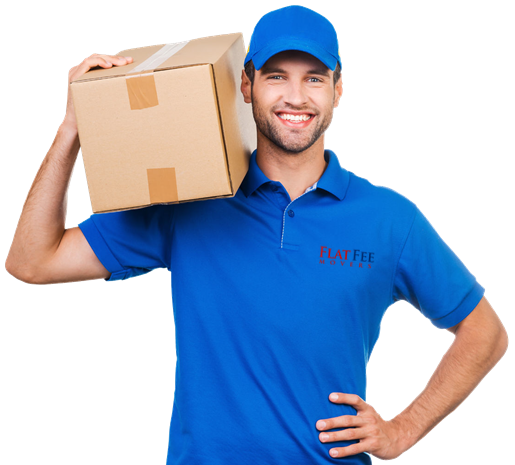 Moving Box Delivery Sarasota FL
Looking for moving box delivery in Sarasota, FL? Flat Fee movers will delivery your moving boxes to your front door or work place.
1. Quote It
Call Flat Fee Moving LLC today to discuss your move and get a quick moving quote by one of our moving specialists.
2. Pack It
Opt to either pack your items yourself or use our professional packing service to avoid all the hassle.
3. Move It
On your scheduled moving day, our crew will show up to pick up your items and move to your chosen destination
Check Out Our Other Moving Services
GET A FAST MOVING QUOTE - CALL NOW
we've got your covered...
Moving Boxes
Furniture Disassembly
Shrink Wrap
Reviews
They worked very hard, yet were very careful handling the furniture that required dis- assembling. I scheduled the delivery for 3 days later, and the trucks were right on time. Everything was unloaded into the new house very quickly and all the furniture were re-assembled back again. I will absolutely continue to use them if I ever need to move again and of course recommended them to my friends and to anyone who needs a moving company which can be trusted withyour property! .[/one-half-first]
GET A FAST MOVING QUOTE - CALL NOW
Convenient Moving Box Delivery in Sarasota FL
Because each client's move has unique requirements, yours may require some special attention. That's why we have extra services available, including:
Packing and unpacking
Box delivery
Carpentry and custom crating
Photo inventory
Locksmith and security services
Disposal and cleaning
Extra insurance coverage
TV removal and installation
We also have branches located in:
New York
Newark
Los Angeles
San Francisco
Miami
Washington DC
London
Let us do it for you:
Packing & unpacking We can send our experts to your home from one to three days before your move to wrap and pack everything for you. And, when the move is made, we can unpack just as carefully and put everything exactly where you want it.
Delivery of packing materials We'll bring you whatever boxes you need.
Elite Services If you have valuables, we have specialists to help. Our experts have experience moving art and antiques, fine wines, fragile objects, and just about anything else that requires special care.
Carpentry services Let our experts construct wooden crates for your oversized or fragile items: we have on-staff carpenters available for either on-site work at your home or construction at our wood shop in the Bronx. We recommend crating for:
Flat screen televisions
Small mopeds and motorbikes
Antiques
Fine art
Wine collections
Sculpture or valued items of unusual size
Chandeliers
GET A FAST MOVING QUOTE - CALL NOW
Sarasota Springs, Fruitville, Gulf Gate Estates, Bayshore Gardens, South Bradenton, Bradenton, Palmetto, Laurel, Venice, South Venice, North Port, Englewood, Saint Pete Beach, Gulfport, Saint Petersburgg, Greenacres, Ochopee, Wellington
34293, 34292, 34223, 34228, 34230, 34229, 34232, 34231, 34234, 34233, 34236, 34235, 34238, 34237, 34240, 34239, 34242, 34291, 34241, 34243, 34266, 34275, 34274, 34285, 34287, 34286, 34289, 34288