Choose a competent Sarasota Mover today to move your belongings damage free!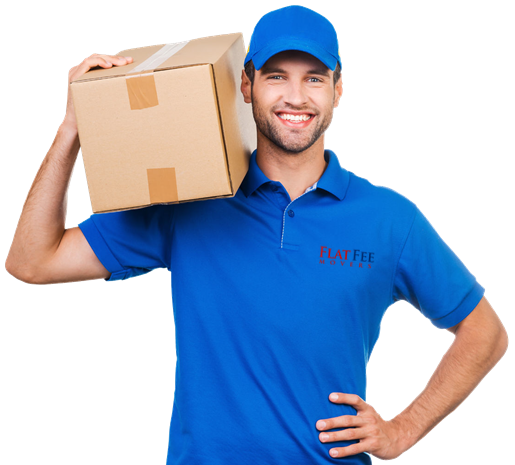 Your Moving Supply Store in Sarasota
Let us help you move your stuff! We offer many moving box kits, packaging supplies, stretch wrap, moving blankets, moving straps, hand trucks, dollies, tie downs, and bungee cords.
When we say "everything," we mean everything. From packing materials to moving blankets, Flat Fee Moving LLC in Sarasota has what you need. We even provide packing cubes.
Moving Boxes Supplies
You're going to need a few of these for relocation and storage! We have a complete line of tough mover-grade moving and storage boxes and packing supplies. The moving kits come with bubble wrap, paper sheets and tape.
Packing Supplies for Your Next Move
We offer packing supplies that can help you to keep your items secure during relocation. We offer these boxes at a low cost to make your move less expensive! From Bubble wrap, packing paper, stretch wrap, moving blankets, tape dispensers, tape and more, we carry everything you need for a successful move.
Bubble Wrap
Help protect your delicate items with two layers of bubble wrap. Flat Fee Moving LLC offers two styles – Original and heavyweight bubble wrap.
Original Bubble Wrap
Original Bubble Wrap is designed to create a protective layer between glass dishes, ceramics, and other fragile items. The bubble wrap is light, thin and easy to use. It has high-quality bubbles that conform to the shape of each item for maximum protection.
Heavyweight Bubble Wrap
Heavyweight Bubble Wrap is used to protect large items like blender carafes and glass mixing bowls. It is also thicker and sturdier. This bubble wrap is great for moving lamps, canes, bicycles, or other heavy items that need more cushioning.
Protective Covers
Furniture, bedding, electronic equipment, and other large items need protection while being moved or stored. Our various protective covers are a necessity for protecting furniture, beds, electronics, and other large objects.
Sofa covers
for sofabeds up to 46" x134", mattress covers – two styles for twin / full and queen/king sizes, flat-screen tv covers – foam covers for TVs 65" wide.
Moving Strap Bands
Moving equipment should be used by two people. It uses weight distribution and leverage to help move heavy objects. The shoulder strap is designed to distribute the load evenly between the two people. The magic slider is an alternative to lifting heavy objects. It helps to prevent back strain.
Appliances move easily with appliance moving straps and furniture sliders. Moving large items often requires moving blankets, cinch straps, and large rubber bands. Rubber bands are extra-large rubber bands that stretch to go around an item covered by a large moving blanket.
Moving Dollies
Utility dollies are essential moving equipment when it comes to moving furniture, heavy boxes, and appliances. Furniture moving equipment dollies usually have four non-marking wheels and a wide, lower base made of wood or metal. We offer different styles, including those with rubber grips or carpeted ends. These utility dollies make moving desks, filing cabinets, and other large items easier and safer.
Moving Blankets, Moving Pads
Moving pads and blankets are some of our movers' equipment specialties at Flat Fee Moving LLC. We offer lots of different styles to choose from, in every price range and quality level. Our "best" category includes high-quality moving blankets. All are in a cotton/polyester blend, for the ultimate in durability and protection. We recommend these blankets for your most precious cargo.
Moving blankets are ideal for safeguarding furniture and other valuables during the relocation process. These blankets are available in different sizes and colors. The better quality blankets include a zipper closure and extra padding.
Skins are lightweight moving pads that offer the lightest protection. They're perfect for one-time use. Our moving blankets are sold as a dozen bundles, four-packs, and singles. You can order custom packs of moving blankets too. Call us for more info.
Why Flat Fee Moving LLC for Moving Supplies?
Flat Fee Moving LLC offers cheap supplies like bubble wrap and commercial moving equipment like appliance carts.
We sell many things you'll want to pack for your move. Call us for bubble cushioning and custom crates. We also offer custom packing, custom boxes, packing cushions and packing tape. We're open seven days a week.
Moving supplies sales team experts are available now. Call them today!
Frequently Asked Questions
What supplies do you need when moving out?
When moving out, customers need a wide variety of supplies. They include:
Boxes (cardboard or plastic)
Tape (including masking tape and duck tape)
Packing paper (bubble wrap is best for protecting glassware)
Dish packs
Furniture blankets (these are necessary when you're relocating
What is the cheapest source of moving material?
There is no such source as the cheapest moving material. It all depends on your budget and what you can afford. A tip for those looking to save money is to buy used boxes and packing supplies from a local store or retailer.
So what's the cheapest place to buy moving supplies?
This depends on where you buy from. Most importantly, you should look for a reliable retailer that carries cheap moving supplies at cheap prices. Ask about sales and specials as well as discounts or other promo offers.
Walmart.com: 25 boxes for $35, or $1.28 each.
Home Depot: ten boxes for $30.98, or one box for $1.44.
Amazon: 20 boxes for $35.99, or individual boxes for $1.98.
eBay: twenty boxes for $52.99, or $2.35 per box.
What is the first thing to do on a moving day?
The first thing to do on moving day is always to gather your paperwork. This should include the rental agreement, driver's license, and credit card information. It's also important to check that you've packed all of your belongings before the movers arrive at your door.
What time do you need to be ready for a mover?
Most people are told that they need to be ready for their movers at least an hour or two before they arrive. This gives them enough time to unload the truck and load up so they can leave with plenty of time for the next house.
How should I pack for a 3 day move?
The best way to pack for a 3 day move is to get several boxes. The first thing you should do is put all of your clothes into one box, each in its own bag or bin. Each family member should have his or her box. Only start this after your moving truck has arrived so everything can fit.
1. Quote It
Call Flat Fee Moving LLC today to discuss your move and get a quick moving quote by one of our moving specialists.
2. Pack It
Opt to either pack your items yourself or use our professional packing service to avoid all the hassle.
3. Move It
On your scheduled moving day, our crew will show up to pick up your items and move to your chosen destination
Keep Moving Forward by Using Our Full Range of Moving Services
Whatever you require to move from one point to point B, we'll make it happen without incident.
We are a specialist with local home Sarasota as well as Florida State moves. We are able to move you through all of Sunshine State's neighborhoods and surrounding locations. This is the reason why the other local moving companies envy us.
From Sarasota to Miami, California and Seattle We can move from any place within the USA. With timely long distance delivery times and secure packing, we can get you settled in your new residence quickly. Our long distance movers will ensure an outstanding moving experience.
We are able to move your office at night during weekends, and during holidays to limit your time off. With the complete packing of your office and de-packing services, your team will be ready to go the next day.
Unline the other moving companies, we've made it as easy as possible by putting important moving items into boxes that fit your needs. The packages will be delivered to your home prior to the move date.
We take the stress out of packing all of your valuable possessions safely. You are able to choose the items you would like us to carry, there is no limit to the quantity of items that you can pack with our packing services. You can hire us to take care of just your kitchen or the entire house.
Piano moving requires special expertise, equipment, and instruction to move the piano safely, and especially in Sarasota. A piano movers, or a professional moving company like us have been performing upright and horizontal moves, and every piano types in between.
Get our moving labor help service within Sarasota. Flat Fee Moving LLC will provide you with a professional packing and moving team. Review, compare, and make a reservation now!
If you need to move urgently? Our service moving company or last minute move-in service can make your life easier. We'll help you move into your new residence as soon as possible! We also provide emergency packaging and storage.
Looking for a Local mover near me or you? Hear this out, we are the only local moving company in Sarasota that provides 24/7 moving services. Whatever size or tiny your move is, we'll move it.
GET A FAST MOVING QUOTE - CALL NOW
we've got your covered...
Moving Boxes
Furniture Disassembly
Shrink Wrap
The reviews of our customers speak for themselves.
As the top-rated Sarasota moving company, we have made moving a pleasurable experience.
The Top Rated Sarasota Movers Throughout All Review Websites
They worked very hard, yet were very careful handling the furniture that required dis- assembling. I scheduled the delivery for 3 days later, and the trucks were right on time. Everything was unloaded into the new house very quickly and all the furniture were re-assembled back again. I will absolutely continue to use them if I ever need to move again and of course recommended them to my friends and to anyone who needs a moving company which can be trusted withyour property! .[/one-half-first]
GET A FAST MOVING QUOTE - CALL NOW
Convenient Moving Box Delivery in Sarasota FL
Because each client's move has unique requirements, yours may require some special attention. That's why we have extra services available, including:
Packing and unpacking
Box delivery
Extra insurance coverage
Let us do it for you:
Packing & unpacking We can send our experts to your home from one to three days before your move to wrap and pack everything for you. And, when the move is made, we can unpack just as carefully and put everything exactly where you want it.
Delivery of packing materials We'll bring you whatever boxes you need.
GET A FAST MOVING QUOTE - CALL NOW

Sarasota Springs, Fruitville, Gulf Gate Estates, Bayshore Gardens, South Bradenton, Bradenton, Palmetto, Laurel, Venice, South Venice, North Port, Englewood, Saint Pete Beach, Gulfport, Saint Petersburgg, Greenacres, Ochopee, Wellington
34293, 34292, 34223, 34228, 34230, 34229, 34232, 34231, 34234, 34233, 34236, 34235, 34238, 34237, 34240, 34239, 34242, 34291, 34241, 34243, 34266, 34275, 34274, 34285, 34287, 34286, 34289, 34288