Moving and Packing Services
Choose a competent Sarasota Mover today to move your belongings damage free!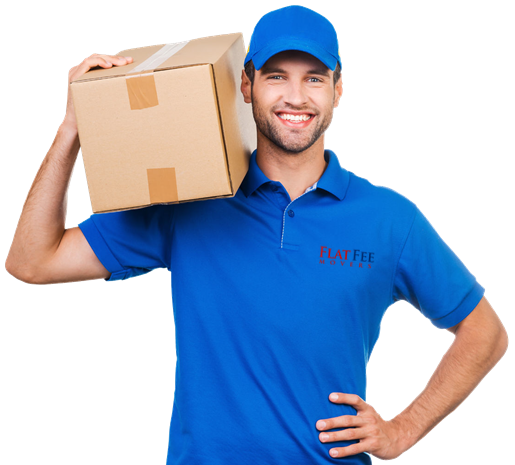 Moving and
Packing

Company

Flat Fee Moving LLC provides customized packing services, from part packing to full packing services, and we always take care of loading, transporting and unloading of your possessions. Our movers can pack any size or shape of items for you! Flat Fee Moving LLC is a family owned business that has been serving the Tampa Bay area and Sarasota for years. We offer flat rate pricing on all moves, which means no surprises at checkout.
Professional Packing & Unpacking Services

in Sarasota

Pack smart! Packing smart is essential for moving. We can pack your items for you, whether you need some packed or an entire house. We can even do custom packing if you want us to.

Our professional movers will arrive at your home with the right equipment and supplies needed to safely move your belongings. Our movers are trained and experienced
Packing Tips

for Moving
Heavy Items
Heavy items should go on the bottom of the box, lighter items on top. Make sure to put heavier items on the bottom of the boxes. Be careful when packing your boxes. Don't overload the boxes.
When you pack up your stuff, try to avoid leaving empty space in the boxes. Packing up your things will be much faster if you don't leave any empty space. Also, try to avoid putting together items from different rooms into the same box. This will make unpacking go much smoother.
Labeling Boxes
Label each box with its destination and a brief description of its contents. This will help you and the movers know where every piece of furniture goes in your new house or if you want to keep things is storage for some time. Keep an inventory list in a notebook.
Movers are experts who know what to do when packing up a house or apartment. They have many different ways to move things safely. Artwork should be wrapped carefully in special wrapping paper. Pictures should be packed in frames, and taped down firmly.
Packing

Household

Items

Dishes should be packed carefully because if you drop any of them, they could break. You should put packing paper around each dish before wrapping it up into bundles. Then, you should pack dishes on their sides, not flat. You should also use plenty of bunched up paper as padding above and under the dishes. Cups and bowls can also be packed inside one another with paper in between, then wrapped three or four cups in a bundle. Pack these in dish-barrels.
Wardrobe Boxes
When packing for moving, use a wardrobe box to store your clothes. Pack your clothes in layers of paper to protect your belongings. Use cardboard boxes to protect your glasses. Hang your clothes in a wardrobe box. Protect your shoes by wrapping them individually. Put your socks inside your shoes.
Valuable Items
Jewelry should be packed carefully. You can use toilet paper rolls or straws to keep necklaces from tangling. When packing TVs, make sure you wrap them in wood crates. Plasmas need special care when you pack them. Double-box your TV and place it inside another box that you've papered.
Moving Supplies Boxes
Whatever you need packed, Flat Fee Moving LLC Sarasota has you covered! We're fully equipped with all the necessary packing supplies, including moving boxes, bubble wrap, and plastic wrap. Our team can pack anything for you, or just helps out for a portion of the move.
Our Specialized
Packing Services
Flat Fee Moving LLC is committed to providing excellent service with every local and long distance move. We provide full packing services for every home and office move. We'll pack everything up into our specialized moving boxes, load them onto trucks, and haul them to your new location. We can also help you unpack, as well!
We offer partial packing services to help you secure your most valuable possessions. We also offer single item packing services to help you pack any size project.
Frequently Asked Questions
Is It Worthwhile to Pay for Packing Services when Relocating?
Using professional packing services will save you considerable time and effort, but at a cost. Self-packing, on the other hand, can help you save money on your move but may increase the risk of damage to your belongings during the move (and will take plenty of time and hard work)
How Much Does It Cost to Hire Someone to Pack Your Belongings and Relocate You?
The cost of hiring packers is between $25 and $40 per hour for a professional, not including materials. Generally, you'll require at least two professionals. Labor costs range from $100 to $400 for one to two bedrooms and from $480 to $1,440 for three or more bedrooms. Businesses frequently offer discounts on the hourly rate for additional packers.
How Do I Organize My Packing and Moving Efforts?
Assort similar items.
Begin by padding each box with newspaper, bubble wrap, or household items such as blankets or towels.
Each box should be labeled with the room and its contents.
Prepare a box of essentials.
Avoid stuffing boxes to the brim.
How Much Does Packing and Moving Furniture Cost?
Nationally, the average cost of packing services is between $60 and $80. Professionals can either provide boxes (for a fee) or use your provided boxes. Often, these packing professionals can also assist with furniture assembly, loading and unloading, furniture relocation, and heavy lifting.
1. Quote It
Call Flat Fee Moving LLC today to discuss your move and get a quick moving quote by one of our moving specialists.
2. Pack It
Opt to either pack your items yourself or use our professional packing service to avoid all the hassle.
3. Move It
On your scheduled moving day, our crew will show up to pick up your items and move to your chosen destination
Keep Moving Forward by Using Our Full Range of Moving Services
Whatever you require to move from one point to point B, we'll make it happen without incident.
We are a specialist with local home Sarasota as well as Florida State moves. We are able to move you through all of Sunshine State's neighborhoods and surrounding locations. This is the reason why the other local moving companies envy us.
From Sarasota to Miami, California and Seattle We can move from any place within the USA. With timely long distance delivery times and secure packing, we can get you settled in your new residence quickly. Our long distance movers will ensure an outstanding moving experience.
We are able to move your office at night during weekends, and during holidays to limit your time off. With the complete packing of your office and de-packing services, your team will be ready to go the next day.
Unline the other moving companies, we've made it as easy as possible by putting important moving items into boxes that fit your needs. The packages will be delivered to your home prior to the move date.
We take the stress out of packing all of your valuable possessions safely. You are able to choose the items you would like us to carry, there is no limit to the quantity of items that you can pack with our packing services. You can hire us to take care of just your kitchen or the entire house.
Piano moving requires special expertise, equipment, and instruction to move the piano safely, and especially in Sarasota. A piano movers, or a professional moving company like us have been performing upright and horizontal moves, and every piano types in between.
Get our moving labor help service within Sarasota. Flat Fee Moving LLC will provide you with a professional packing and moving team. Review, compare, and make a reservation now!
If you need to move urgently? Our service moving company or last minute move-in service can make your life easier. We'll help you move into your new residence as soon as possible! We also provide emergency packaging and storage.
Looking for a Local mover near me or you? Hear this out, we are the only local moving company in Sarasota that provides 24/7 moving services. Whatever size or tiny your move is, we'll move it.
GET A FAST MOVING QUOTE - CALL NOW
we've got your covered...
Moving Boxes
Furniture Disassembly
Shrink Wrap
The reviews of our customers speak for themselves.
As the top-rated Sarasota moving company, we have made moving a pleasurable experience.
The Top Rated Sarasota Movers Throughout All Review Websites
They worked very hard, yet were very careful handling the furniture that required dis- assembling. I scheduled the delivery for 3 days later, and the trucks were right on time. Everything was unloaded into the new house very quickly and all the furniture were re-assembled back again. I will absolutely continue to use them if I ever need to move again and of course recommended them to my friends and to anyone who needs a moving company which can be trusted withyour property! .[/one-half-first]
GET A FAST MOVING QUOTE - CALL NOW

Sarasota Springs, Fruitville, Gulf Gate Estates, Bayshore Gardens, South Bradenton, Bradenton, Palmetto, Laurel, Venice, South Venice, North Port, Englewood, Saint Pete Beach, Gulfport, Saint Petersburgg, Greenacres, Ochopee, Wellington
34293, 34292, 34223, 34228, 34230, 34229, 34232, 34231, 34234, 34233, 34236, 34235, 34238, 34237, 34240, 34239, 34242, 34291, 34241, 34243, 34266, 34275, 34274, 34285, 34287, 34286, 34289, 34288