SARASOTA, FL
PACKING SERVICES
Choose a competent Sarasota Mover today to move your belongings damage free!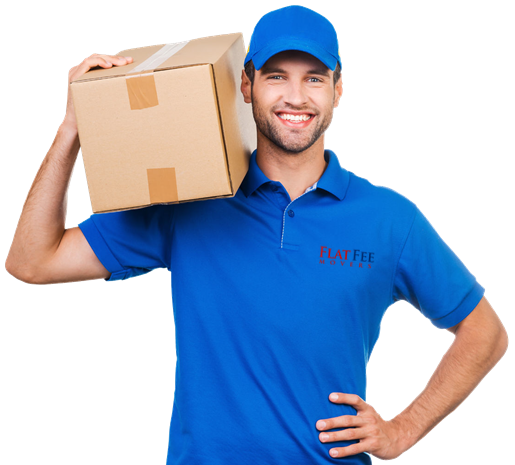 Hire Reliable Packing & Unpacking Sarasota FL Services
We at Flat Fee Movers have found that it's very common for customers to underestimate the energy and time required to pack properly for a move, and this becomes one of the most stressful aspects of the entire exercise. On board our team are highly professional, experienced and well-trained movers who can expertly pack all types of items, regardless of their size, volume, quantity, value or fragility.
We provide professional packing & unpacking Sarasota services; these ensure that all your items will be packed in a very efficient manner and that the transportation will take place very efficiently too.
What Kind of Sarasota Packing Services Do You Require?
Full Pack- If you prefer not to worry about any of the packing, we will send out a team of highly-experienced packers & movers to your residence; they will pack up every single item, starting from the attic to the basement. If you need to use of these items, they will be left unpacked, and those will be packed up quickly on the day of the move.
Partial Pack- If you prefer to pack some or most of the items in your home, on your own and just need help with some of the things, you can opt for our partial pack services. Maybe, it's just the breakables you need packed, or you need us to prepare some storage spaces for the move, we can help with that too.
Unpacking- Moving, in itself is a very tiring experience and even if all the hard labor is handled by the personnel you hire, maybe you feel that you need help with setting up all the furniture etc. We are more than happy to help you with that.
Last Minute Packing and Unpacking Requests
So, are you moving tomorrow and find that all your things are still lying unpacked all over the place, and that you need help with these things? Simply call Flat Fee Movers with your requirement.
We will go the extra mile to accommodate your request, even if it's a last minute one.
We are a reputable Sarasota Florida moving company that provides residential and commercial customers with safe, reliable and cost-effective packing and unpacking services. We maintain very reasonable pricing in all our services and make sure you get value for money. When it comes to any type of local or interstate moving, we are the experts to call. For more information, call Flat Fee Movers at 786 310 5902.
1. Quote It
Call Flat Fee Moving LLC today to discuss your move and get a quick moving quote by one of our moving specialists.
2. Pack It
Opt to either pack your items yourself or use our professional packing service to avoid all the hassle.
3. Move It
On your scheduled moving day, our crew will show up to pick up your items and move to your chosen destination
Check Out Our Other Moving Services
GET A FAST MOVING QUOTE - CALL NOW
we've got your covered...
Moving Boxes
Furniture Disassembly
Shrink Wrap
Reviews
They worked very hard, yet were very careful handling the furniture that required dis- assembling. I scheduled the delivery for 3 days later, and the trucks were right on time. Everything was unloaded into the new house very quickly and all the furniture were re-assembled back again. I will absolutely continue to use them if I ever need to move again and of course recommended them to my friends and to anyone who needs a moving company which can be trusted withyour property! .[/one-half-first]
GET A FAST MOVING QUOTE - CALL NOW
Flat Fee Movers- Professional Packing Services in Sarasota, FL
For guaranteed reliable and professional packing services in Sarasota, FL, Flat Fee Movers is the company you can rely on. Flat Fee Movers provides full service solutions covered by a damage-free guarantee on your possessions. Moving to a new home can be quite challenging and stressful. Transferring to a new home can be a very tedious and complicated endeavor because of all the belongings that need to be relocated. Steer clear from the hassles of moving by allowing us to handle everything for you.
Professional Care for Your Belongings in Sarasota, FL
We seriously take our responsibility as the trusted provider of home packing services in Sarasota. We value the trust given to us by our loyal customers in and we show appreciation through dependable packing and moving services. We use fully equipped cargo trucks as well as appropriate safety gears to ensure minimal movement of your items while in transit. Our proven methods and techniques guarantee the safest and most reliable process for your peace of mind. We are highly experienced and knowledgeable on items that are prohibited to be transported in large amounts such as chemicals or highly flammable materials.
Avoid All the Difficulties and Stress When Moving in Sarasota, FL
Some people burden themselves by not getting moving and packing services for moving in Sarasota, FL simply because they do not want the extra expenses and they just cannot trust strangers with their belongings. We are not kidding when we say relocating to a new apartment, office, or business area on your own is highly stressful, exhausting and more expensive. We offer honest and fair pricing for the services we offer. With many other local movers and packers, we confidently stand out among the rest. All you will be left to do is look forward to your new life in your new place, sitting back while we do all the hard work.
We Boast of Having Licensed and Dedicated Movers in Sarasota, FL
Our local movers and packers in Sarasota are trained in multiple safety techniques for house packing services. With us, you can entrust your belongings without having to worry about their safety. Flat Fee Movers recognizes the need for reliable professional moving services. We are recognized by the government to operate as a fully capable moving service. Our packing services are fully insured and bonded. You can be sure that our team will treat your belongings with utmost care. We go out of our way to make sure that our customers are always satisfied and their belongings delivered safe.
Guaranteed High Quality Services in Sarasota, FL
When you book our packing and unpacking services, our professional packers and movers in Sarasota, FL will visit your location and contact you to inquire about a convenient parking location. As soon as we visit your home, we will conduct a visual inspection to itemize your personal belongings and assess how to pack them in the safest manner possible. Do not risk your belongings with incompetent companies in the hopes of saving money. Our people are equipped with the latest packing equipment and gear. Flat Fee Movers prides itself on 100% customer satisfaction guarantee; thus we make sure that our services are done using only high quality materials and the latest equipment.
Why Choose Flat Fee Movers in Sarasota, FL?
Compared to other full service moving companies, Flat Fee Movers offers customizable moving packing services in Sarasota, FL that you can modify according to how you see fit. Our team of highly skilled packers and movers only utilize the most effective techniques at packing your belongings and transporting them safely and efficiently. Local residents trust us in safely moving packages of any size and weight. We have your back whether you need to pack and move small items, bulky furniture or even fragile articles.
We also Offer Other Types of Moving Services in Sarasota, Florida
We have established packing moving services in Sarasota, Florida that are customizable to any individual's needs. When you need house packers for moving within short or long distances, simply give us a call and allow us to secure your belongings. We understand that each moving activity has its own unique set of requirements. Whether you are relocating next door or across the state, we are sure to have an appropriate option for you. Among the types of moving services we offer are:
· Full packing service;
· Select packing service;
· Fragile packing service;
· Unpacking service
Call Us Today for a Guaranteed Safe and Affordable Move in Sarasota, Florida
Do not just look for the cheapest way to move and sacrifice the safety of your belongings in the process. Trust only qualified experts for reliable packing services in Sarasota, FL. Do not compromise quality of services in finding the cheapest way to move. Avoid the stress of dealing with incompetent moving companies who only promise and not deliver. Flat Fee Movers puts high priority on customer satisfaction and quality of service. Begin your moving project by calling us at 123-456-7890.
GET A FAST MOVING QUOTE - CALL NOW
Sarasota Springs, Fruitville, Gulf Gate Estates, Bayshore Gardens, South Bradenton, Bradenton, Palmetto, Laurel, Venice, South Venice, North Port, Englewood, Saint Pete Beach, Gulfport, Saint Petersburgg, Greenacres, Ochopee, Wellington
34293, 34292, 34223, 34228, 34230, 34229, 34232, 34231, 34234, 34233, 34236, 34235, 34238, 34237, 34240, 34239, 34242, 34291, 34241, 34243, 34266, 34275, 34274, 34285, 34287, 34286, 34289, 34288