Choose a competent Sarasota Mover today to move your belongings damage free!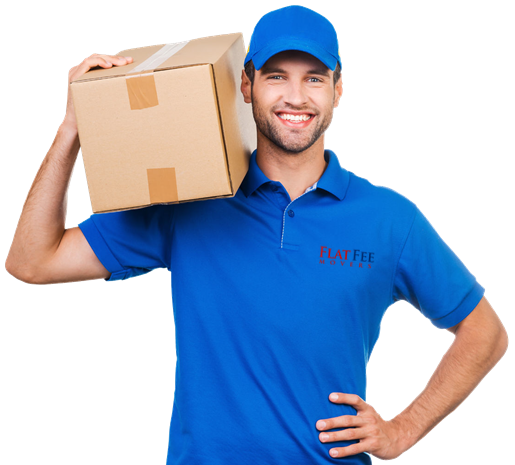 Student Moving Services Provided by College Mover Companies
There are many problems associated with college moves, especially if you're relocating from a dorm to an off-campus apartment in Sarasota! Many people are willing to help, but if their friends don't have moving trucks, it will take longer and be more unpleasant for everyone involved in the relocation.
Just a few examples include traffic, parking regulations, building codes, small stairways and hallways, and breakable objects like your television or computer. There are plenty of other activities you'd rather do with your time than return to school or live on your own.
Flat Fee Moving LLC is a Sarasota college moving company that serves the entire Sarasota area, including Tampa, Bradenton, and the rest of Florida State. Our years of experience in moving people into and out of homes, dorms, apartments, and flats give us the expertise to make your college move as stress-free as possible.
We offer students different types of moving services such as full-service packing unpacking, moving labor help, furniture moves and heavy lifting, truck rentals, and any other essential services at an affordable rate.
Flat Fee Moving LLC is proud of its exceptional customer service as well as its intimate familiarity with the communities we serve and the schools located there. We go above and beyond to ensure the success of every project, no matter how big or small it may be.
Residential and commercial movers
With Flat Fee Moving LLC, moving your business is simplified; we provide full-service packing and unpacking of the entire office, workstations, and cubicles.
Additional Information Storage for Commercial Use Businesses and offices seeking solutions and alternatives to basic self-storage turn to Strong College Students Moving.
We provide a comprehensive range of storage services to our business clients, ranging from warehousing and palletizing to inventory tracking and management.
Learn More About Business Relocation Moving can be an extremely stressful time for any business.
Storage is also available at our facility!
The desire to bring everything you possess with you when moving out of your parent's house can be strong. It's possible that you won't be able to fit everything into your new dorm or apartment.
No worries - Flat Fee Moving LLC also offers cost-effective climate-controlled storage. We charge by cubic foot so that you only pay for the storage space you actually need..
Request your free college moving estimate today!
Affordable Student Moving Cost
As a student (or as a parent who has to pay for your children's education), you don't want any "surprise" charges on moving day to jack up your moving costs!
Flat Fee Moving LLC offers a Moving Price Guarantee as an added layer of protection for our customers.
Free of charge, we will send an estimator to your home, college dorm, or apartment to provide an exact and non-changing quote.
For additional information, you can contact our company via our moving quote form!
Top Universities and Colleges Near Sarasota FL
The area is home to approximately six colleges, including four private colleges and universities, two public colleges and universities, and zero community colleges that offer two-year degrees. Learn more about the colleges in the Sarasota area, including their cost, enrollment, student demographics, and degree offerings.
Sarasota-Manatee Campus of the University of South Florida
South Florida University Sarasota–Manatee is a University of South Florida branch campus located in Sarasota, Florida. USFSM was founded in 1975 as a regional campus of the University of South Florida and was granted independent accreditation by the Southern Association of Colleges and Schools Commission on Colleges in June 2011 to award baccalaureate and master's degrees.
New College of Florida
Sarasota, Florida-based New College of Florida is a public liberal arts college. It was founded in 1960 as a private institution known simply as New College, was absorbed by the University of South Florida for several years, and then became an autonomous college in 2001, becoming the state's eleventh independent school.
Ringling College of Art and Design
Ringling College of Art and Design is a private college in Sarasota, Florida that focuses on art and design. It was founded in 1931 as a remote branch of Southern College by Ludd M. Spivey as an art school but was separated in 1933.
FAQs About Student Moves
Are you able to hire someone to move a single item?
Yes, you can hire movers to relocate a single item. For instance, if you're moving a single piece of furniture, it may take numerous movers - even more so if the move involves multiple floors.
Do you I need to tip movers?
Because moving firms do not include or deduct gratuities from the cost of your relocation, this is a gesture worth considering if you wish to express gratitude to your movers for a job well done. Tipping is customary in the moving profession, and your diligent movers, like the majority of service industry workers, appreciate the gesture.
How long do distance movers work?
The average duration of the majority of long-distance moves is between 10 and more than two weeks. However, due to a variety of uncontrollable factors, this timeframe is likely to vary throughout the process.
How long does it take to move an apartment?
While the actual time required to move varies significantly between moves, professional movers provide the following general timelines based on the size of an apartment: Moving a studio or one-bedroom apartment takes approximately 2-3 hours. Moving a two-bedroom house takes approximately 3-5 hours. Moving three to four bedrooms can take up to seven hours.
1. Quote It
Call Flat Fee Moving LLC today to discuss your move and get a quick moving quote by one of our moving specialists.
2. Pack It
Opt to either pack your items yourself or use our professional packing service to avoid all the hassle.
3. Move It
On your scheduled moving day, our crew will show up to pick up your items and move to your chosen destination
Keep Moving Forward by Using Our Full Range of Moving Services
Whatever you require to move from one point to point B, we'll make it happen without incident.
We are a specialist with local home Sarasota as well as Florida State moves. We are able to move you through all of Sunshine State's neighborhoods and surrounding locations. This is the reason why the other local moving companies envy us.
From Sarasota to Miami, California and Seattle We can move from any place within the USA. With timely long distance delivery times and secure packing, we can get you settled in your new residence quickly. Our long distance movers will ensure an outstanding moving experience.
We are able to move your office at night during weekends, and during holidays to limit your time off. With the complete packing of your office and de-packing services, your team will be ready to go the next day.
Unline the other moving companies, we've made it as easy as possible by putting important moving items into boxes that fit your needs. The packages will be delivered to your home prior to the move date.
We take the stress out of packing all of your valuable possessions safely. You are able to choose the items you would like us to carry, there is no limit to the quantity of items that you can pack with our packing services. You can hire us to take care of just your kitchen or the entire house.
Piano moving requires special expertise, equipment, and instruction to move the piano safely, and especially in Sarasota. A piano movers, or a professional moving company like us have been performing upright and horizontal moves, and every piano types in between.
Get our moving labor help service within Sarasota. Flat Fee Moving LLC will provide you with a professional packing and moving team. Review, compare, and make a reservation now!
If you need to move urgently? Our service moving company or last minute move-in service can make your life easier. We'll help you move into your new residence as soon as possible! We also provide emergency packaging and storage.
Looking for a Local mover near me or you? Hear this out, we are the only local moving company in Sarasota that provides 24/7 moving services. Whatever size or tiny your move is, we'll move it.
GET A FAST MOVING QUOTE - CALL NOW
we've got your covered...
Moving Boxes
Furniture Disassembly
Shrink Wrap
The reviews of our customers speak for themselves.
As the top-rated Sarasota moving company, we have made moving a pleasurable experience.
The Top Rated Sarasota Movers Throughout All Review Websites
They worked very hard, yet were very careful handling the furniture that required dis- assembling. I scheduled the delivery for 3 days later, and the trucks were right on time. Everything was unloaded into the new house very quickly and all the furniture were re-assembled back again. I will absolutely continue to use them if I ever need to move again and of course recommended them to my friends and to anyone who needs a moving company which can be trusted withyour property! .[/one-half-first]
GET A FAST MOVING QUOTE - CALL NOW
Hire Reliable Student Movers in Sarasota FL
Student moving is more than paper and pens, books and table ends. Beds, desks, and other objects, no matter how simple they may appear, can suddenly seem very asymmetrical when lifting them up or down dorm facility staircases, and into or out of tight rooms. These possessions can also be very costly to ship in the mail. Moreover, students moving state-to-state, across the country, or from dorm to home can't usually haul everything in their own vehicles. We assist students by offering comprehensive checklists, free quotes, expert services and assign the most highly-trained and professional movers for each job.
ECO-FRIENDLY: Take pride in knowing you're doing your part to help the Earth., distinguishing us as the industry's true leader in eco-friendly disposal.
RELAX & SMILE: You'll be all smiles because the HUNKS are sure to deliver the most courteous, efficient, friendly and stress-free service you've EVER experienced
We know our way around college campuses and we understand the challenges you face as a student. We're students ourselves, after all!
GET A FAST MOVING QUOTE - CALL NOW

Sarasota Springs, Fruitville, Gulf Gate Estates, Bayshore Gardens, South Bradenton, Bradenton, Palmetto, Laurel, Venice, South Venice, North Port, Englewood, Saint Pete Beach, Gulfport, Saint Petersburgg, Greenacres, Ochopee, Wellington
34293, 34292, 34223, 34228, 34230, 34229, 34232, 34231, 34234, 34233, 34236, 34235, 34238, 34237, 34240, 34239, 34242, 34291, 34241, 34243, 34266, 34275, 34274, 34285, 34287, 34286, 34289, 34288