SARASOTA, FL
COMMERCIAL MOVERS
Choose a competent Sarasota Mover today to move your belongings damage free!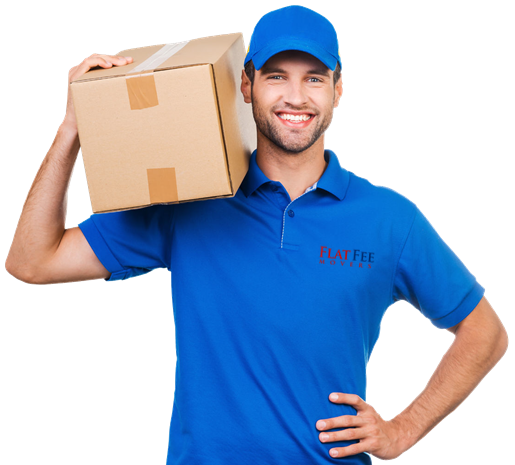 Hire Reliable Commercial Office Movers in Sarasota FL
Flat Fee Movers is one of the leading companies in the moving industry in Florida. We provide outstanding commercial moving Sarasota services to residential and commercial customers across the region. We have the expertise, experience and the resources to tackle local and interstate moves. We understand that the requirements of commercial customers are very different from the needs of residential customers and our solutions are always customized to your specific requirements.
All Types of Sarasota Commercial Moving
Our customers know that with us handling their job, the move will be smooth and without any hurdles. We also provide free 30-day storage for long-distance moves and all your belongings will be housed in a climate-controlled, state-of-the-art facility. The different types of moving services we provide are:
Business & Office Moving- You can choose from our different packages for an organized and efficient move that helps reduce downtime and maintain productivity levels.
Medical Equipment- We can also pack, store and transport medical equipment. We understand that these are high-value products and ensure that they are transported safely to the new destination.
Office Moving Services - When you contact us, you will be assigned a move coordinator; he will work very closely with you at every stage of the relocation- starting from the moving estimate, right till the cartons and boxes are disposed of.
We Also Move Computers
We know that offices have a lot of sensitive equipment like computers, scanners, printers etc and we have the ability to move standalone computers as well entire office computer systems. Our storage services are cost-effective too and this means you don't have to stress over the cost of the storage. We are the Florida Commercial Moving experts who go the extra mile to ensure you are 100% satisfied with the job we handle for you. When it comes to any type of local or interstate moving, we are the experts to call. For more information about our Commercial Moving services, call Flat Fee Movers at 786 310 5902.
These are perfect for commercial and residential moves, local and interstate ones, as well as for real estate professionals and property managers. We don't just supply easy to use eco-friendly moving bins, but our customers also opt for our affordable packing supplies.
1. Quote It
Call Flat Fee Moving LLC today to discuss your move and get a quick moving quote by one of our moving specialists.
2. Pack It
Opt to either pack your items yourself or use our professional packing service to avoid all the hassle.
3. Move It
On your scheduled moving day, our crew will show up to pick up your items and move to your chosen destination
Check Out Our Other Moving Services
GET A FAST MOVING QUOTE - CALL NOW
we've got your covered...
Moving Boxes
Furniture Disassembly
Shrink Wrap
Reviews
They worked very hard, yet were very careful handling the furniture that required dis- assembling. I scheduled the delivery for 3 days later, and the trucks were right on time. Everything was unloaded into the new house very quickly and all the furniture were re-assembled back again. I will absolutely continue to use them if I ever need to move again and of course recommended them to my friends and to anyone who needs a moving company which can be trusted withyour property! .[/one-half-first]
GET A FAST MOVING QUOTE - CALL NOW
Reliable and Approachable Commercial Movers in Sarasota, FL
As the best commercial movers in Sarasota, FL, Flat Fee Movers is here to provide the best moving equipment to help you relocate your business easily. Our company is duly permitted by the government to operate in Sarasota. Unlike other office moving companies, we offer rates that you can easily afford. We can help your employees relocate to your new location. We guarantee to offer competitive rates for your requested service. In addition to our moving services, you can also hire our team if you need packing, unpacking and corporate relocation management services. We make it easy to transfer your office or your business to another location by providing the care and attention that your valuables need as well as the important moving equipment and supplies to transport your goods properly.
Tried and Tested Commercial Relocation Services in Sarasota, FL
Our company uses tried and tested packing techniques to ensure the safety of your items. We can provide the service you need, regardless of your location. Our workers have gone through background checks to ensure your safety. We guarantee to transport all your valuables to your new office on the date you provided. There are a lot of companies offering commercial relocation services that you can choose from in Sarasota, FL, but unlike other providers, we offer trusted services that can accommodate your needs, schedule and budget. It pays to have a reliable company who can come on time for your scheduled moving date.
Our Office Moving Company in Sarasota, FL Offers Flat Rates
All of our corporate relocation packages are available at low prices. We are a well-respected company because we offer professional services and we discuss our fees up front before a client books our team. All costs and service fee for packaging your belongings are accounted for on the quotations for your perusal and review. Unlike other providers, our office moving company in Sarasota, FL knows the area very well. With our commercial moving, you can enjoy a hassle-free transfer of your most important business or office equipment. We then come up with a fair quote on all services and materials used.
Guaranteed Hassle-Free Sarasota, FL Commercial Moving Companies
Among the commercial moving companies in Sarasota, Flat Fee Movers distinguishes itself by providing top-of-the-line moving supplies. Our company is equipped with large trucks, different moving supplies and storage facilities that ensure the quality of the moving relocation services our team provides. With our top-notch equipment and well-trained workers, relocating to a new business site is only a matter of calling our team and booking a service. Our corporate movers have been offering affordable moving solutions to thousands of clients for years. Our company stands out from the others because we guarantee a smooth transaction when you book our corporate relocation packages. We can also help you unpack your belongings to your new business location.
Damage-Free Sarasota, FL Commercial Moving
Our trucks and storage facilities in Sarasota, Florida are at your full disposal. We make sure that your things are well-taken care of by packing them correctly and efficiently. As your number one commercial moving company, we work hard to maintain our very high standard in conducting relocation services in Sarasota, FL. As per standard protocol, we will also provide a comprehensive insurance coverage for your things. We have also assisted a great number of company employees in relocating to their new homes.
Why Choose Flat Fee Movers for Your Office Moves in Sarasota, FL
Because our team can navigate in entire city and the neighboring areas, we can ensure a timely delivery of your packed items. We are among the most highly-commended commercial movers and our team can readily provide you with a quote upon request. We have been the number one provider of superior office moves in Sarasota. As one of the professional office moving companies in the city, we understand how important your valuables and equipment are in operating your business, so we will make sure that they will arrive on schedule. We have a complete stock of packing items such as moving boxes, tapes, bubble wraps, fragile labels, moving labels, packing peanuts and more. Our office movers know Sarasota better than anyone else in the business. As one of the most recommended companies in the area, we provide personalized service with clearly-defined and fair quotes.
Amazing Corporate Movers in Sarasota, Florida
Our team provides plenty of relocation package jobs that you would surely find useful no matter how small or large your business is. Trust only our commercial moving company if you want your business equipment, appliances or fixtures transported in the best condition. We guarantee to look after your company's belongings once we conduct our services. Our experts will work hand in hand with your team to ensure an organized business relocation. Flat Fee Movers is composed of a team of Sarasota, Florida corporate movers who are trained to pack any size, shape or type of appliances, equipment and furniture.
Call Our Office Movers for High-Quality Commercial Relocation Services in Sarasota, Florida
With our approachable team of workers, you can effortlessly discuss your company's relocation needs. Our company's contact hotline is available any time. Let us handle your office relocation needs today. Pick up the phone and dial our phone number. You can rely on our team to transport your belongings with great care. Flat Fee Movers guarantees that the services of our office movers in Sarasota, Florida will not come with any hidden charges.
GET A FAST MOVING QUOTE - CALL NOW
Sarasota Springs, Fruitville, Gulf Gate Estates, Bayshore Gardens, South Bradenton, Bradenton, Palmetto, Laurel, Venice, South Venice, North Port, Englewood, Saint Pete Beach, Gulfport, Saint Petersburgg, Greenacres, Ochopee, Wellington
34293, 34292, 34223, 34228, 34230, 34229, 34232, 34231, 34234, 34233, 34236, 34235, 34238, 34237, 34240, 34239, 34242, 34291, 34241, 34243, 34266, 34275, 34274, 34285, 34287, 34286, 34289, 34288