Flat Fee Moving LLC - Sarasota Moving Company
Choose a professional Sarasota Movers today to move your belongings damage free!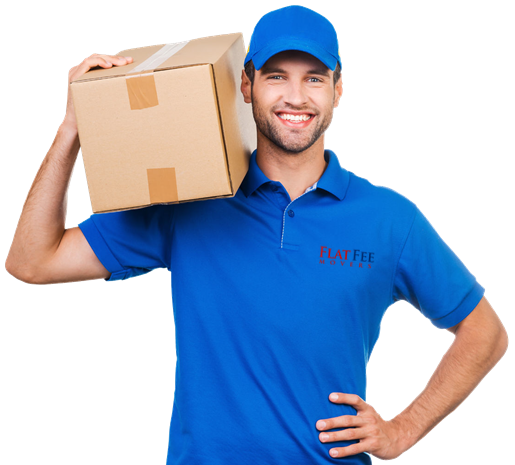 When you are moving to a new home or new office location, one of your biggest concerns is about the actual move. There is just a lot of logistics involved in this work and it becomes crucial to have a reliable company handle the job for you. We at Flat Fee Moving LLC are one of the leading Sarasota Movers in the business and over the years have provided residential and commercial customers with outstanding moving services. Not only are we the Florida Movers that property owners across the region have come to trust, but we also provide outstanding moving and storage services, piano movers, local moving and relocation across the country.
1. Quote It
Call Flat Fee Moving LLC today to discuss your move and get a quick moving quote by one of our moving specialists.
2. Pack It
Opt to either pack your items yourself or use our professional packing service to avoid all the hassle.
3. Move It
On your scheduled moving day, our crew will show up to pick up your items and move to your chosen destination
Check Out Our Other Moving Services
GET A FAST MOVING QUOTE - CALL NOW
we've got your covered...
Moving Boxes
Furniture Disassembly
Shrink Wrap
Reviews
They worked very hard, yet were very careful handling the furniture that required dis- assembling. I scheduled the delivery for 3 days later, and the trucks were right on time. Everything was unloaded into the new house very quickly and all the furniture were re-assembled back again. I will absolutely continue to use them if I ever need to move again and of course recommended them to my friends and to anyone who needs a moving company which can be trusted withyour property! .[/one-half-first]
GET A FAST MOVING QUOTE - CALL NOW
Flat Fee Moving LLC - Sarasota Mover– Best Local Movers in the Business
For reliable local movers in Sarasota that you can trust Flat Fee Moving LLC. If you are clueless on where to start on the process of removal, we can assist you in the planning so that we can perform the work according to your preferences, and with our experience as a guide. Our personnel are trained in handling our deliveries so you do not need to worry about damages or loss of your stuff. During our initial meeting, we can discuss how you want the move to take place, in case you do have a plan for the whole operation. We are also very quick to respond to every service request.
Work with Certified Moving Services in Sarasota, FL
Our moving company is certified by the industry regulating bodies in Sarasota, so you are guaranteed to receive only quality services when you work with us. For your peace of mind, know that we are fully insured so all of the items included in every moving project we take on are protected. We operate better than other cheap long distance moving companies because we are backed by experience. Our personnel can help you pack irregular stuff like imported furniture and various home decors for safe and easy transit. We take it to heart that only a company that commits to the satisfaction of its customers will succeed in the long run. Our license to operate is a testament to our dedication and commitment to our clients.
For Reliable Residential Moving Services in Sarasota, Choose Flat Fee Moving LLC - Sarasota
Having a lot of stuff to move from your old house to your new home can be exhausting and draining. We only use industry standard tools and equipment for our moving services so that our customers can feel secured when they let us handle their precious belongings. We guarantee that our services are offered at prices that are within the standards set by the industry and governing bodies. Trust us to assist you in your move and you can be sure that our quality service is worth every cent you spend with us. Here at Flat Fee Moving LLC, we continue to improve our moving services and offer them at more competitive prices compared to competing local movers in Sarasota.
Licensed Residential Movers in Sarasota Ready to Assist You
With our removal company in Sarasota, you can be sure that all of your things are well taken care of for a successful and stress-free move. Our satisfied clients have helped us develop and nurture a solid reputation in the industry. You can be sure that when we carry your stuff to and from our container trucks, damages to your property are prevented. We have built a solid reputation in providing exceptional moving and storage services. With the right professionals, your move will proceed smoothly without you stressing over every detail.
The Best Moving and Packing Services in Sarasota Available Only from Flat Fee Moving LLC - Sarasota
We offer insurance policies on our quotations so that all of your items are guaranteed to be handled with expert care. You can be sure that your things are safely stored in our facilities, thanks to strict security measures and procedures. We offer climate control accommodation with our storage facilities. We can lift and carry heavy loads to and from the container trucks to avoid damage to property. You can trust us to take your budget in consideration when we discuss the services you need so that we can formulate an effective contract for you. Our professional moving and storage personnel in Sarasota, FL utilize containers and trucks, and the actual transit is always fast and reliable.
The Best Furniture Moving Companies Sarasota
Our professionals will fine-tune the details of our services to meet the specific needs of our customers because we know how to work with various situations based on past experiences. We offer free price estimates. The services we provide are available in easy and reasonable terms so that anyone can enjoy professional assistance for their moving projects at a low cost. We have established a name in this industry as one of the leading furniture moving companies in Sarasota, FL. For an appointment with our expert consultants, you can contact us so we can schedule one with you. We have a fleet of trucks of various sizes, which we use to cater to your needs.
Reasons Why Locals Choose Our Professional Moving Services in Sarasota, Florida
Our expert packing and unpacking services are available to our clients in case they are not accustomed to doing it themselves, which is most likely the case. By choosing us to be your partners, you can save a lot of time compared to how long it would have taken you to do the work by yourself. To cater to a wide range of requirements our clients may ask of us, we have various offers and packages available. By trusting our cheap moving company in Sarasota, Florida, we can help lessen the burden and you will be free to focus on the other aspects of the move.
Get in Touch with the Most Affordable Sarasota Movers
Get in touch with Sarasota movers team today. Regardless of the destination within the country, you can rely on us to assist you with your needs. Contact us today and hire our affordable movers in Sarasota, Florida so we can get started with your moving storage project. You are welcome to ask for price estimates or schedule a removal service any time you prefer. We understand that you take a lot of risk in believing us in handling your stuff, so we make sure that we operate within all of the imposed regulations in our industry. All of our trained and experienced personnel are available to assist you so that your move will be a pleasant and successful experience. Experience a Flat Fee moving experience with our Sarasota moving business, we would love for you to become a customer and experience our moving guys ways of getting you and your family or your business to its new location. We even offer labor-only services for residents and businesses that simply need some guys to load or unload, loading or unloading of their rental truck, pod, container, or moving household goods around in your home or apartment. Our Sarasota moving service is based on excellent customer service and providing a flawless moving process to ensure as much as we can that our moves are movers and serving our customers to their satisfaction during their relocation. From the garage to the master bedroom we treat every one of your items like gold. Feel what it is like to be moved with no worries about what hour you are on. Make the Flat Fee choice and select us today for your next moving experience.
GET A FAST MOVING QUOTE - CALL NOW
Sarasota Springs, Fruitville, Gulf Gate Estates, Bayshore Gardens, South Bradenton, Bradenton, Palmetto, Laurel, Venice, South Venice, North Port, Englewood, Saint Pete Beach, Gulfport, Saint Petersburgg, Greenacres, Ochopee, Wellington
34293, 34292, 34223, 34228, 34230, 34229, 34232, 34231, 34234, 34233, 34236, 34235, 34238, 34237, 34240, 34239, 34242, 34291, 34241, 34243, 34266, 34275, 34274, 34285, 34287, 34286, 34289, 34288