SARASOTA, FL
LONG DISTANCE MOVERS
Choose a competent Sarasota Mover today to move your belongings damage free!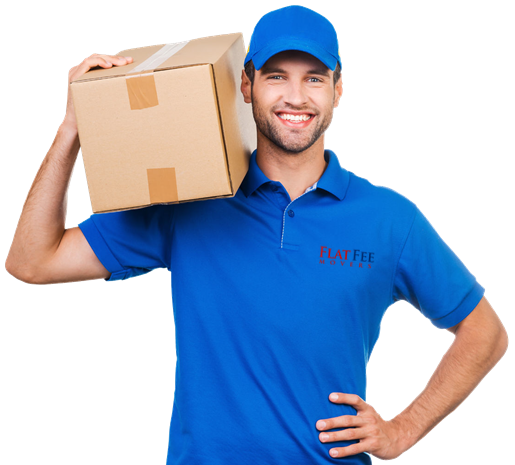 Hire Reliable Long Distance Movers in Sarasota FL
When you are moving long distance, it is crucial that you choose Long Distance Movers in Sarasota, Florida that are experienced and reputed. This is important because only a reputed company will know how to handle the nitty-grittys of transporting items over long distances. This move is very different from a local one because the distance is much longer which also means that the challenges faced are different. Long Distance Movers No every moving company has the capability to provide this service in a seamless manner. With flat fee movers handling all the aspects of the move, you have peace of mind that all your belongings will be packed, boxed, hauled and transported to the destination, in the same condition they were in before they were moved.
1. Quote It
Call Flat Fee Moving LLC today to discuss your move and get a quick moving quote by one of our moving specialists.
2. Pack It
Opt to either pack your items yourself or use our professional packing service to avoid all the hassle.
3. Move It
On your scheduled moving day, our crew will show up to pick up your items and move to your chosen destination
Check Out Our Other Moving Services
GET A FAST MOVING QUOTE - CALL NOW
we've got your covered...
Moving Boxes
Furniture Disassembly
Shrink Wrap
Reviews
They worked very hard, yet were very careful handling the furniture that required dis- assembling. I scheduled the delivery for 3 days later, and the trucks were right on time. Everything was unloaded into the new house very quickly and all the furniture were re-assembled back again. I will absolutely continue to use them if I ever need to move again and of course recommended them to my friends and to anyone who needs a moving company which can be trusted withyour property! .[/one-half-first]
GET A FAST MOVING QUOTE - CALL NOW
Flat Fee Movers – When You Need Long Distance Movers in Sarasota, FL
Flat Fee Movers is your ultimate long distance movers in Sarasota, FL. From packing to storage to moving and finally unloading your stuff, we guarantee expert care. Excited to move but worried about how to get your stuff safely to your new place? We are here for you. We have the right tools, equipment, and skills to ensure that your furniture, appliances, and other valuables are properly organized and packed for their safety. To learn how we can help manage moving your home or business with you, contact us through our website. We have the expertise and the capability to pack fragile and confidential items, and ensure that they are not broken or lost during the move.
We are Registered and Insured as a Long Distance Moving Company in Sarasota, FL
Flat Fee Movers is a duly registered and licensed long distance moving company in Sarasota, FL with full insurance coverage. Being fully registered and licensed to operate our business enables us to provide the services you need without fear or worry of being apprehended for violation of Sarasota, Florida laws. Our customers' interests, preferences, safety and trust are our priority. We are insured, so you can fully entrust your belongings to us, knowing that they are covered with insurance for theft or breakage.
Professional Long Distance Movers in Sarasota, FL
Relocating your home or business takes a lot of hard work, and by that, we mean not just hard labor. If you want your move to be as hassle-free as possible, letting professionals handle all the necessities required to get you on the road makes a lot of difference. Being in this business for a long time, we know that once you get down to actually packing and storing your stuff, you will realize that the entire process is not at all that easy as you will need to consider the following:
• Planning of required linear footage for transport
• Segregation of things to be transported into their respective categories for ease of delivery and unloading
• Preparation of articles prone to damages and breakage to ensure safe transit.
• Finding the right container truck and transport schedule for your move.
We Guarantee to Protect Your Goods in Sarasota, FL
All your things are properly arranged inside the transport truck with use of acid-free tissues, wooden crates, polystyrene chips and bubble wrap. Hiring our Sarasota, FL long distance moving company comes with a promise that your belongings are kept safe during the transport. We will ensure that your precious belongings arrive at their intended destination in one piece and in the same condition they were in before the move. Do not be fooled with suspiciously low rates in exchange for irresponsible service or even theft. We will make sure that your items are organized and safe all throughout the travel. We know how to wrap your furniture and appliances, especially your breakables.
Transport Your Household Goods with the Best and Most Reputable Long Distance Moving Services in Sarasota, FL
We will prepare an inventory of all your items. Upon reaching the intended destination, our team will again make sure that everything is in order and in good condition, before loading them to your new home or office. All items are cross-checked from the initial inventory, unloaded carefully from the container truck and placed in a convenient location. Indeed, our comprehensive services will get you moving fast. We take care of the actual travel of your packaged things and their proper shipment to your desired destination, as well as other long distance moving services that you need in Sarasota. Fuel cost, toll gate fees, and other related expenses are already covered in our moving quotes.
We Can Best Serve Your Packing and Relocating Needs in Sarasota, Florida
So why choose us when there are long distance moving companies in Sarasota, Florida that offer cheaper rates? Sure, we may not have the cheapest rates, but our services are definitely not cheap, and when you request for moving quotes, you can be assured that ours do not come with hidden charges. We never skimp on quality; not even if we have to spend more or go the extra mile to do it. We have package deals available to you should you wish to avail of additional services for your migration. We have the licenses and certifications to prove that we operate in accordance with the laws and regulations.
A List of the Services We Offer in Sarasota, FL
In each and every one of these services, we always aim for 100% customer satisfaction. Call us and we will provide you with moving quotes suitable to your requirements. We are always flexible to your needs. Here is a short list of the services we offer at Flat Fee Movers:
• Detailed orientation and documentation by a personal move coordinator
• Complete cost estimation and customs clearance
• Proper discussion of available movement schemes and plans; reviewing of critical dates such as survey, pickup, departure and arrival in ports; delivery and unloading.
• Preparation of all boxes and items for road transport and/or airfreight loading.
• Shipment of whole inventory; Full Container Loading [FCL] for larger volumes and Less than Container Load [LCL] for smaller volumes.
• Packing and unpacking services
Call Us Now to Experience Quality Service in Sarasota, FL
We have expert consultants on the line, ready to answer your inquiries or provide you with a moving checklist, packing and loading tips, or a free quote, upon your request. Along with our quality services, we make sure that you receive excellent customer support when you get in touch with us. Call us now and let us talk about your needs and expectations. We come highly recommended in the city. Now that you have heard everything, all that is left to do is to dial our number. Our consultants are friendly and accommodating. Call us now to experience first-hand why Flat Fee Movers is called the best long distance moving company in Sarasota, FL.
GET A FAST MOVING QUOTE - CALL NOW
Sarasota Springs, Fruitville, Gulf Gate Estates, Bayshore Gardens, South Bradenton, Bradenton, Palmetto, Laurel, Venice, South Venice, North Port, Englewood, Saint Pete Beach, Gulfport, Saint Petersburgg, Greenacres, Ochopee, Wellington
34293, 34292, 34223, 34228, 34230, 34229, 34232, 34231, 34234, 34233, 34236, 34235, 34238, 34237, 34240, 34239, 34242, 34291, 34241, 34243, 34266, 34275, 34274, 34285, 34287, 34286, 34289, 34288